£29.99
Foot Massage Slippers Acupuncture Therapy Massager Shoes. £29.99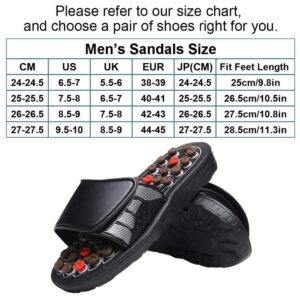 1、High-quality Material: The sandals are made of PU + EV. Heel height: about 3cm. Insole material: rubber. All materials meet environmental requirements.
2、41 Rotating Acupuncture Points: Based on the acupuncture points of the feet, each sandals is designed with 41 rotating acupuncture points to stimulate the points of the feet to massage the foot cavity.
3、Reduce Fatigue: The slippers promote blood circulation, regulate the internal functions of the body (stomach, spleen, heart, ears, eyes, etc.) clear the passages and make breathing smooth.
4、Suitable Group: The sandals are suitable for massage enthusiasts, the elderly, people lack of sleep, people have to sit a long time, people with muscle aches, weakened immunity, obesity.
Description
£29.99 Freepost Amazing Massage Sandals.
Reflexology Massage. The massage buttons in the soles rotate as you push down on them and are removable. As we all know, a foot massage can stimulate many weaknesses in the body. Now your chance to massage your feet as you walk about. Unisex.
Money Back Guarantee with PayPal