Alan Boswell was born in London's east end in 1950
He has worked for two stockbrokers and went self-employed in 1971. He spent many years in the motor trade and ended with a service station in Sudbury Suffolk.
In 2003 he took a year out and trained as a counsellor then studied psychology at OU.
He moved to Ipswich and went on to design and install bathrooms, specialising in wet rooms and disability wet rooms. Finally founding time to write his first novel with ideas from over the years and reading many Sci-fi novels in his early years.
He currently lives mainly in Thailand writing and studying health..
I have always been fascinated by people, not so much what they do, but why they do it. This began watching Mr Spock in star trek in the seventies. Made me look deeply at how emotions affect people, guide their lives without them knowing. This led me to study psychology at OU and train as a counsellor. Then to take a look at health and modern living. How chemicals and poor nutrition is poisoning people and how plastic is killing life on earth.
We can all improve our health, it is easy if you really wish to. On retiring to Thailand, I discovered Moringa Oliefera growing here. Upon research I found that it is the most nutrient dense plant on earth. After eating it for some time I felt the best in years. So, I asked myself why have we not heard of this amazing plant? Of course, big companies cannot control it. It is my goal to try and introduce this in the west as it is a quick easy solution to health.
My address here is
59/1 MOO 14 BAAN NON SUNG, DISTRICT THAPH RANG, AMPHOE PHRA THONG KHAM, AMPHOE PHRA THONG KHAM, NAKHON RATCHASIMA, 30220, 30220, THAILAND. Formally Milton Keynes.
Thank you for your visit here, I with you all the best.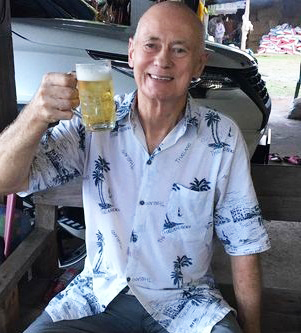 Home »